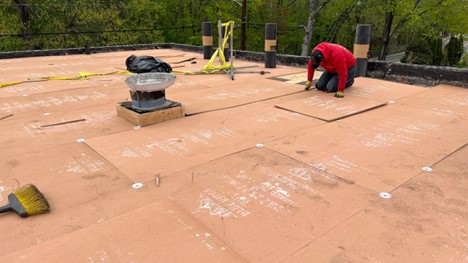 Are you wondering how much it would cost to replace a flat roof in New Jersey in 2023?
If you are a homeowner or business owner in New Jersey with a flat roof that needs replacing, you may be wondering how much it will cost in 2023. While the actual cost of replacing a flat roof can vary widely depending on factors such as the type of material selected, the cost for labor and installation, roof removal costs, time the project will take, and warranty provided depending on the specific project delivered, we can provide you with some general information to give you an idea of what to expect.
First, let's take a look at some of the different types of materials that can be used for flat roof replacement. Metal Flat Roof specifically aluminum is one of the most popular materials used for flat roof replacement thanks to its durability. This material reflects heat from the sun, which helps keep energy costs down. A built-up roof (BUR) system uses several layers of natural or synthetic roofing with layers of tar or asphalt that are hot-applied and topped with gravel. Modified Bitumen Roof features rolled-out overlapping, single, or double-ply asphalt sheets and are either heat-applied or self-adhering. Rubber Membrane Roof, on the other hand, is a single-layer, watertight alternative to BURs. Single-ply membrane systems use flexible, waterproof sheets made from synthetic materials such as thermoplastic olefin (TPO), polyvinyl chloride (PVC), or ethylene propylene diene M-class rubber (EPDM), which typically comes in either black or white.
The cost of a flat roof replacement can vary depending on the chosen material, with metal costing between $3.25 to $14.25 per square foot, BUR costing between $2.50 to $4 per square foot, modified bitumen costing between $2.50 to $4.50 per square foot, and rubber membrane costing between $6.50 to $9.50 per square foot. The price may also vary depending on the location and size of the project. On average, The cost of labor and installation typically costs $40 to $80 per hour for a flat roof installation, with some projects requiring as much as $500 or more just for labor, depending on where you live. For instance, roofing work in metro areas tends to cost more than it does in rural areas. A flat roof installation will typically take anywhere from two to five days to complete. The labor and installation cost can also vary depending on the complexity of installation for the roof materials you choose.
Another cost factor to consider is the removal of the old roof, which typically costs $1 to $5 per square foot of roofing removed. However, removal and disposal costs can vary across contractors, so be sure to ask about this specific cost for your home when evaluating a quote from your local roofing contractor.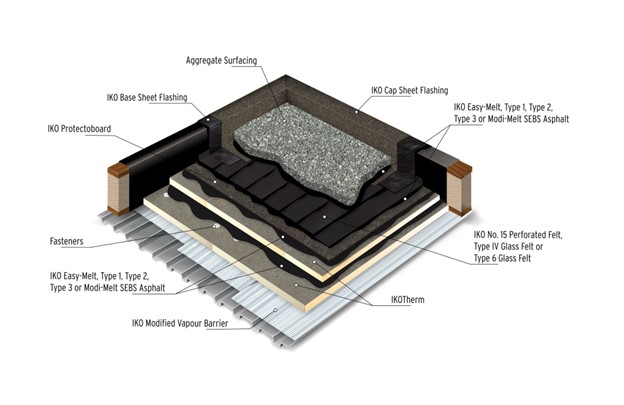 Source: https:/www.iko.com7source=images&cd=vfe&ved=0CBMQjhxqFwoTCJjGnuzQtv4CFQAAAAAdAAAAABAb
It is essential to mention that additional potential cost factors that homeowners and business owners need to consider when building a budget for their flat roof replacement project, including roof sealant, drain system installation, roof vent installation, permitting, and inspection.
In conclusion, since there are many factors that determine how much a flat roof will cost, it is best to contact a New Jersey roofing company and request a Roofing Cost Calculator to get a project estimate for free before selecting and evaluating contractor and their quotes. This way, you can get a more accurate idea of the cost and budget accordingly.
Hire the most reputable roofing contractors who specialize in flat roof replacement or repair to minimize risks, enable you to save money, and provide high-quality workmanship.