We understand the frustration of dealing with roof problems that seem impossible to fix. That's why we're here to offer our assistance. We provide straightforward and reliable information on all your roof job needs. Trust us to solve your roof issues efficiently and effectively. Don't hesitate, reach out to us for the expert help you deserve.
Whether your roof needs some regular maintenance, a small repair, or a full replacement, New Jersey Roofing Company is here to provide high-quality roofing and exterior property services. With more than three decades of experience and a respected reputation throughout Northern New Jersey, our professional contractors can help you figure out your needs and the best way to go about the project, without breaking the bank or your trust. Read about the residential roof services we offer at New Jersey Roofing Company.
A roof inspection is conducted when you need to know more information about how well your roof is performing, if there is any damage, or the expected longevity of the roof.  It's usually recommended to get a yearly roof inspection to prevent potential problems and keep your house in top shape.
New Jersey Roofing Company offers a few different roof inspection services to meet your needs. You can get a physical roof inspection, where a contractor visually inspects your roof for any potential problems. We also offer more in-depth shingle roof inspections like:
Infrared moisture detection: Uses infrared technology to find hidden moisture damage
Drone inspection: Uses high-quality drones to provide a more in-depth image of your roof
Satellite and written reports: Helps provide insight into the inspection and recommended services
Additional roof inspection services like these, temperature tests, and core samples are available for an increased fee.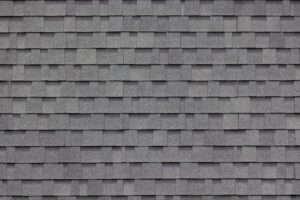 If you know your roof is damaged and needs to be fixed, it's best to schedule an appointment with a professional contractor like New Jersey Roofing Company for shingle roof repair. Our contractors are fully trained and licensed to complete all types of asphalt shingle residential roofing repairs, including:
Replacement of individual damaged shingles
Repair of damaged or deteriorated underlayment
Repair or replacement of flashing around chimneys, vents, and skylights
Securing loose or lifted shingles
Sealing cracked or missing caulk around shingles
Resealing and waterproofing shingles to prevent future damage
Cleanup and removal of debris after repairs are completed
Providing detailed written estimates for repairs
To prevent the need for major repairs or a full roof replacement later, it's important to keep up with smaller repairs. New Jersey Roofing Company has built a strong reputation in Northern NJ for offering dependable work and competitive prices for more than 30 years.
Call Today for a Free Consultation
If your roof has extensive damage or is at the end of its lifespan, a full shingle roof replacement may be more suitable than a repair. At New Jersey Roofing Company, we have an expansive portfolio of shingles from major manufacturers for you to choose from so you'll be sure to find the right shingles for your home and style. Manufacturers include Owens Corning, GAF, and Tamko.
Advantages of our asphalt shingles include:
Quality shingle roofs that, when properly installed, could last over 40 years
More affordable alternative to other roofing options
Fast and easy installation (typically start to finish in less than a week, pending weather conditions)
Backed by 20+ year manufacturing warranties
Available in a wide range of colors and styles
We also offer lifetime architectural and designer asphalt shingles that are durable and designed to last for many years, while being cost-effective and requiring minimal upkeep. Our roofing packages are a great choice for a full roof replacement that will give you peace of mind.
Getting regular maintenance on your roof is a great way to prevent small damage from worsening and creating a larger problem down the line. New Jersey Roofing Company is happy to offer our clients maintenance plans for residential roofing, to make upkeep easier.
Our shingle roof maintenance consists of regular inspections and performing whatever upkeep may be needed. We recommend signing up for this plan, even if there are no obvious signs of damage to your roof, to keep it performing at its best. Our contractors inspect your roof closely for any damage or issues that can cause problems as time goes on. Some of the things we look for during a maintenance visit include:
Ceiling cracks or staining
Missing shingles
Roof debris
Saturated insulation
Surface cracks
Air pockets
Edging irregularities
Leaks
Structures like drains, gutters, vent pipes, and chimneys will also be inspected, so we're sure to get the most accurate report. At New Jersey Roofing Company, we believe it's better to spend the money on regular maintenance now to avoid having to shell out big bucks on a more costly repair later. Maintenance is an investment that makes an important difference, so get your free estimate today.
Call Today for a Free Consultation
Maintenance Checklist
Contact Us Today to Learn More
Whatever type of work you need to be done on your roof, the fully certified and trained contractors at New Jersey Roofing Company can get the job done efficiently and dependably. With one of the longest labor warranties in the industry, you can relax knowing your remodel will be protected for years to come. Stop into our showroom today to see our selection, or contact us at 866-921-8004 for answers to your questions.
ROOFING PACKAGES