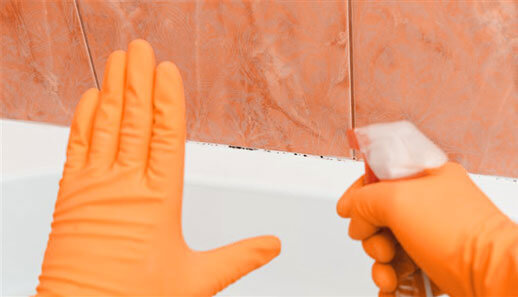 How to Remove Mold from Tiles and Grout | New Jersey Roofing Co.
How to Remove Mold from Tiles and Grout Begin by scrubbing the mold off of the tiles and grout by using a scrubbing brush with a mold killing product. After this you'll probably find there is still mold stains left on the grout. You can use bleach to fade stains away. Before you use the bleach you should spot test it to make sure that it won't discolor your tiles. You should also wear gloves to protect your hands from the bleach. Apply the bleach to the grout for about 10 minutes.
Another alternative is to use baking soda. Mix it with water to create a paste and then use a toothbrush to scrub it onto the grout. If you find the stain remains on the grout after bleaching then repeat the process. Afterwards rinse the bleach off thoroughly with water. If the stains will not go away you can try using paper towels soaked in bleach. Saturate paper towels in bleach and then stick them to the grout where there are stains. Give it some time and this should fade away the mold stains on the grout.